The pendant lamp is one of the main types of lighting for interiors, positioned in the centre of the room it illuminates it in a uniform and homogeneous manner, completing the style and embellishing the furnishings, thus becoming the central point of interest.
In very large rooms it is advisable to use several pendant lamps, and by combining them with lighting solutions such as floor lamps and wall lights it is possible to create a pleasant mood in places such as hotel lobbies, where a welcoming ambience is sought after for guests.
To create a modern and contrasting ambience, it is possible to use different pendants, using different sizes or shapes, always taking care not to distort the style of the furniture.
A large pendant lamp, placed in a reception hall, gives elegance and importance to the environment, giving it refinement and class.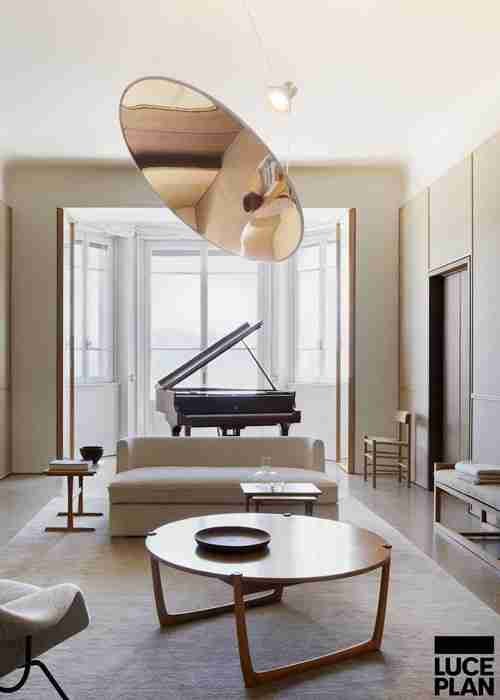 Hanging lamps are also offered in a fully customised version, a unique piece to reflect any style of décor.
They are produced according to requirements, with different materials and design styles:
We find suspension lamps with 6 or more arms, in the most classic form built in glass or crystal or in a more modern key built with a steel or wood structure. Some of them have glass shades or small fabric shades.
Hanging lamps with lampshades, where the lampshade is the protagonist, you can play with printed, laminated, pleated fabrics or entirely in plastic materials, glass, plexiglass or aluminium.
As with wall lamps, where there is no possibility of a direct electrical connection to the ceiling, you can also opt for pendant lamps with an external plug.
Cascade pendants are used in more elegant and refined environments, they furnish and at the same time illuminate vertically, they can be used to illuminate the stairwell distributing the light on several levels.
The lampshade, as in every lighting accessory, is a solution that can be adapted to any furnishing style, thanks to its total customisation.
Lampshades can be made in a variety of materials: fine fabrics, fireproof fabrics or fabrics suitable for outdoor use. They can also be made in plastics, metal, brass, carbon fibre, aluminium and natural materials such as plant fibres, cocoon and raffia.
Do you want to realise your own project?
Fill in the form to be contacted
"*" indicates required fields